On October 9th, the first SCANPUB book, "Norsk hamskifte? En kritikk av Terje Tvedt , et betinget forsvar for godheten og en etterlysning av midtbanen i innvandringsdebatten", written by Professor Jostein Gripsrud, was published.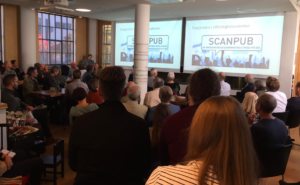 As the book is a critique of Terje Tvedt`s "Det internasjonale gjennombruddet", which got a lot of publicity in the Norwegian public in 2017, the book release, at Cafe Christie 11. october, especially focused on "Norsk Hamskifte"s role in this manner.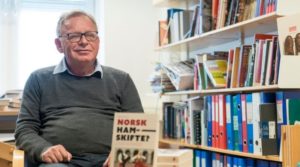 One of the chapters describes the immigration debate in the Scandinavian publics from 1970 to present, and Professor Gripsrud explained in an interview with På Høyden such things as how "there is no scientific evidence, based on our research, of [what Tvedt depicts as] elites manipulating or ignoring public opinion".
                                                                                                                              Photo: Tor Farstad, På Høyden
The book has gained a lot of attention. Examples of the Norwegian public`s reception of the book can be found in our Media coverage archive.